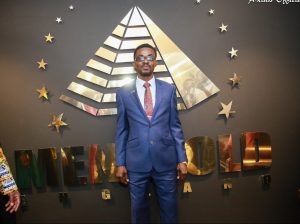 MenzGold Set To Meet The Press Tomorrow
Chief Executive Officer of Menzgold Ghana Limited, Nana Appiah Mensah has assured his customers of the continues operation of the company adding that a press conference will be held on Monday to address concerns from customers.
Reacting to a statement by the deputy governor of the bank of Ghana Charles Adu Boahen, hinting of a total shut down of the company, the Menzgold boss said his company will thrive.
The deputy governor revealed that the company has not been cooperative in providing documents demanded by the regulatory body.
A situation that has informed their decision to close down the company.
However, reacting via a tweet Nana Appiah Mensah stated that the company is not a financial institution hence the Deputy Minister cannot determine it's fate.
In a tweet, he said "Menzgold is here to stay and Ghana will prosper."
"I would be addressing the public on Menzgold and other related matters on Zylofon fm 102.1 on Monday, "Time with Menzgold" between 11am & 12noon. Menzgold is here to stay" #Ghanashallprosper
Menzgold customers to hold nation wide customers
Customers of gold dealership company, Menzgold Ghana Limited, say they will embark on a nationwide demonstration by the end of this October, to express their displeasure at the company's failure to pay them the extra value on their investments as promised earlier.
According to the spokesperson of a group calling it self 'Aggrieved Menzgold Customers', Timothy Binob, the exact date for the demonstration will be announced at a press conference to be held later this week.
Mr. Binob explained that the customers all over the country are expected to take part in the demonstration.
Speaking to Citi News, he also said customers are yet to receive any official communication from the company on what percentage of the total value of gold traded will be refunded to them.
We can't pay dividends due to SEC's action – Menzgold
Menzgold had earlier said it is unable to pay its customers matured dividends on their gold investments due to the action that was taken against it by the SEC.
"The gold collectibles offered for trade by patrons of our gold vault market product are subject to our quality controls and traded for profit which is shared as an extra value with the product owner or trader. Any act, order or instruction, therefore, designed or decreed to forbid Menzgold from trading makes it impossible to generate any revenue whatsoever out of which extra values are charged and paid to those entitled," Menzgold said in a statement dated September 25, 2018.
But the SEC did not agree with Menzgold's position, saying its action did not stop them from paying customers returns on already existing investments.
Meanwhile, the SEC has indicated that it is yet to receive adequate information from Menzgold after it ordered the suspension of its gold trading business.
Menzgold has sued the Securities and Exchange Commission (SEC) and the Bank of Ghana.
The company in its suit is seeking from the court an order directing the two institutions to stop interfering in its business.
They are also asking the court to stop the Bank of Ghana and the SEC from publishing what they have described as "derogatory notices" against their business.
'We'll settle you completely, be patient – Menzgold Boss
The Chief Executive of the company, Nana Appiah, had a few days ago assured that they were preparing to release all locked up cash.
Nana Appiah in a tweet, urged his clients to exercise some restraint for the protection of his business.