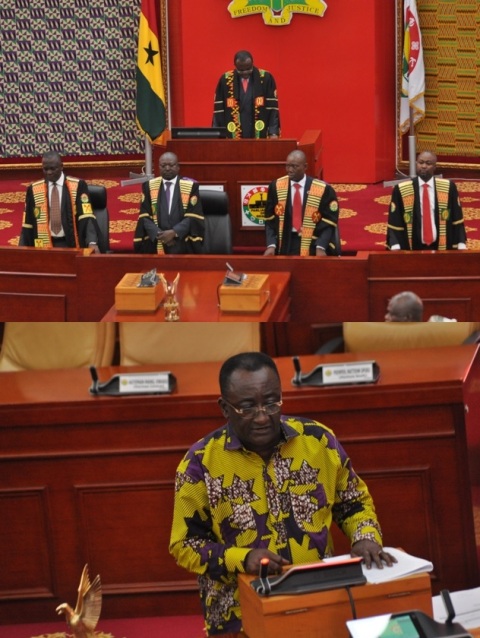 Tamale Set To Hold Farmers Day Tomorrow
Tamale, the regional capital of the Northern region, is all set to host the 2018 and 34th edition of the National Farmers Day celebration.
This was disclosed by Dr Owusu Afriyie Akoto, the Minister of Food and Agriculture, who showed up in Parliament on Wednesday to brief the on progress of the preparations towards the event.
The National Farmers Day is seeking to award the best and most deserving farmers and fishermen in the country.
He said a lot of handwork had gone into the preparations to ensure a successful celebration.
This year's celebration, on the theme: 'Agriculture: Moving Ghana Beyond Aid,' would be held in the Northern Region at the Aliu Mahama Sports Stadium in Tamale on Friday, December 7.
Dr Akoto explained that this year's celebration would include a week-long exhibition and trade fair, which started last Friday, November 30, 2018.
The fair would be extended to the National Farmers Day on Friday, December 7, as a side attraction.
He said its main objective was to provide a platform for key actors in the agricultural sector to interact on issues of common interest, share information and avail themselves of the opportunity to learn about new developments on the agricultural front.
He said the fair was structured in a way that each region would have the opportunity to showcase its rich endowment and diversity of agricultural resources and potential.
The regions would also have an opportunity to infuse a flavour of culture to animate the occasion and encourage patronage from the public.
Dr Akoto stated that a competent team of agricultural professionals with a wealth of knowledge, experience and integrity was put together to travel the entire length and breadth of Ghana for first-hand information, and to subject eligible farmers to strict scrutiny in accordance with agreed criteria.
He said the best and most deserving farmers would be awarded at all levels, especially national, regional and district.
Dr Akoto also noted that the theme for this year's celebration is very appropriate because it reflects the premium the Government placed on agriculture and farmers who are the target of government policies and programmes.
'It is an undeniable fact that since assuming office in 2017, government has more than demonstrated its avowed commitment to changing the face of Ghana's agriculture,' he said.
He said the Planting for Food and Jobs initiative, which kick started the transformation agenda in the first year of President Nana Akufo-Addo's Administration, has been a resounding success, adding that the evidence was there for all to see.
'There is no part of Ghana that has not been touched by the success story in terms of the abundant food production,' he added.