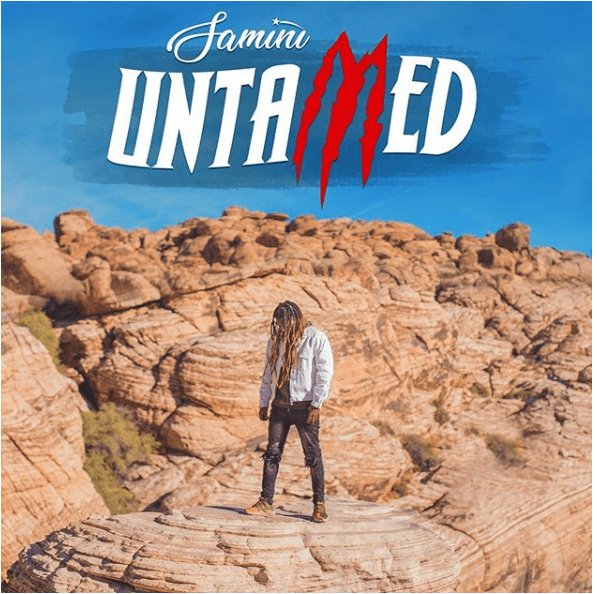 Samini Untamed--Album Review
Samini' s colorful career is undeniable. From the time he broke out by blasting memorable verses on songs belonging to the big stars of the 90s and 2000s, to the time he established himself as a pillar in contemporary music in Ghana, Emmanuel Andrews Samini, has used his unique voice and style to deliver hits cutting across highlife, hiplife, roots, dancehall, afro pop and afrobeats. In December 2018, he released his 7th studio album titled 'untamed'.
Untamed is befitting piece of work from an experienced performer. The 22-track collection sees him go back to his original roots- reggae and show off his dynamism and versatility with songs a listener can vibe to on a laid-back day and still jam to at a concert.
Production elements combine hip hop, reggae, dancehall and trap and the lyrical content addresses popular topics like love, legacy, faith, life and struggle, yet the work manages to sound refreshingly different. For this, Samini deserves praise.
The album intro has Samini setting the agenda and putting his points across by toasting over a hip-hop beat. It then moves to Reggae nice which prepares the listener to catch the reggae vibe and not let it go away. This track features some sweet skanking that brings the album to life. As usual, Samini rides the rhythm effortlessly.
Natty dread is vintage Samini. A fast tempo rapid fire delivery of 3 quartets followed by an easy chorus. The adlibs and backing vocals will remind listeners of his smash hit Where my baby dey.
Rainbow is a ladies' tune sung largely in Twi. It is delivered over a traditional reggae beat with a prominent trumpet. This song connects with many of his more mature female fans and Twi speaking fans who love him for previous hits like Odo and his iconic collaborations with artistes like Ofori Amponsah. Rainbow is followed by the soulful Obra [ye kun], which translates into life is war. With a heavier bassline, strong rhythm and some well-timed skanking, this song comes out as an emotional recount of daily struggle.
Untamed features some more upbeat tracks like the celebratory Worldwide, on which he brags;
If I were a bird, I will be an eagle /
Cause I fly solo high away from every evil /
Aint got time to try figure out people /
clear cut higher heights aint nobody equal /
Ragga Dada is a surprising title because one would expect some wild dancehall track in ragga style. Interestingly. Samini swerves everybody and curiously chooses a sweet one-drop reggae beat to crown himself the king of Ghana ragga;
I am the king I am the lord I am I the mediator /
I'm the builder of the fort I am bridge maker /
What's a king without a regiment /
If you really want to battle, brother better check your readiness
Of course, he still manages to sneak in a few lines to throw shade at a rival.
Funny man say him ah go end my career /
When him cyan't even run a 10-mile career /
Everybody know sey me ah di benchmark for years
Ghana raga dada baako pe
What is a reggae album without a dose of faith and inspiration? Not much. That's why Untamed has Ethiopia, a moving spiritual tribute to the land of King Selassie I. The unmistakable Nyabinghi drums add a very different flavour to the album.
Survival is a legit inspirational street anthem that producers should get credit for. The track brings back the fast tempo, heavy thumping bassline that roots reggae is known for. One can imagine the rain god on stage dishing out this song. Forever a jam.
When it comes to singing love songs, Samini has always been successful. It is therefore not surprising that the real-life ladies' man woos female listeners with several love songs on the album. Falling is an early YouTube fan favorite, Be easy is a lover's rock jam, and Craving is a sweet musical meal. Technically speaking however, the most notable love cut is Island girl, which is already a hit. On this joint, Samini shows off some impressive delivery by boosting fresh rhymes with clear pronunciation to serious effect. Just check out;
Make we blend up like rice and peas
Nah tell a lie, me love your style and steez
You know I no dey rush, I move si-lent-ly
Hey, I hear sey you dey feel me eh
You no sey everything signed and sealed
Skyscraper tower, baby climb and see
Rasta no go rough you up, vio-len-tly
Me have di tickle fi you giggle.
With lines like these, nobody should be surprised when the ladies accept his proposal.
Just when a listener thinks the topics are exhausted, the Highgrade boss goes into his elements, takes a puff, and gives you Boom draw, a celebration of marijuana. This song is energetic from start to finish, with neatly arranged lines suspending over a reggae-hip hop fusion beat that allows the rain god to show off his versatility while advertising his love for the international herb. Production is impressive, and the lyrics will excite pro- marijuana people;
Smoke a spliff when me wake up / smoke another one before me take off/ smoke weed like a fulltime job. Me no member when last me take a day off.
Overall, Untamed is a career defining album which will cement Samini's legacy as a versatile heavyweight. His approach to songwriting and vocal delivery is matured and self-assured from a long track record. No wonder this sense of achievement comes through on Makira- a homecoming song.
When all is said and done, Samini is a versatile king, this is his coronation, and he has nothing to prove.
ABOUT:

Eric Kumah is an entertainment lover and award-winning marketer who publishes content on Africa's top artistes and awards. Follow on Twitter @EricKumahThe1st