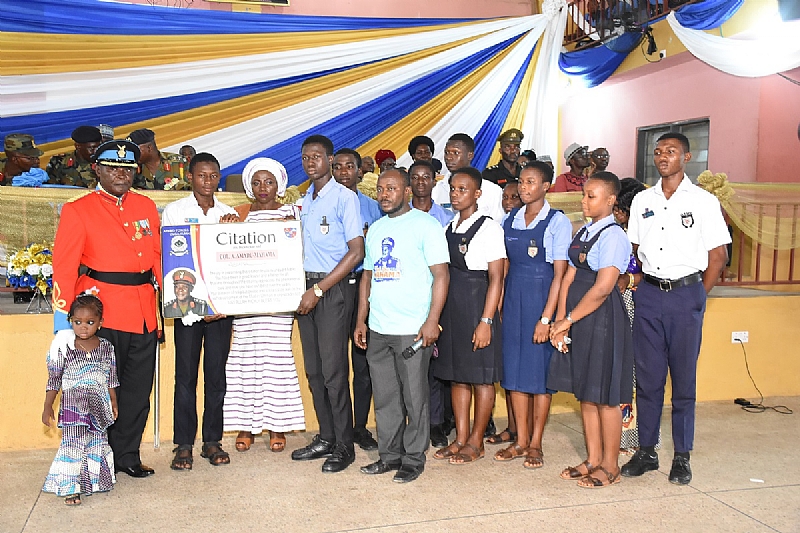 Afshts-Kumasi Bids Col Amadu-Mahama Farewell.
4 GAR Kumasi - End of service and Thanksgiving Ceremony in honour of Col Abukari Amadu-Mahama, headmaster of the Armed Forces Senior High and Technical School (AFSHTS) - Kumasi, has been held on Thursday, 29 November 2018 at the school's Assembly Hall.
It is worth noting that Col Amadu-Mahama has been the headmaster of the school for the past ten years and had chalked a number of successes in terms of infrastructural development, academic excellence and an increased number in student- teacher population.
The General Officer Commanding Central Command of the Ghana Army, Brig Gen Cosmas Bretu Alhassan who is also the Board Chairman of the school used the occasion to eulogize Col Amadu Mahama for his exemplary leadership. He mentioned that when Col Mahama took over as headmaster of the school, it did not have enough classroom facilities, noting that it took the tireless efforts of Col Mahama to help improve the infrastructural needs of the school.
He stated that the academic performance of the school over the past years has also seen massive improvement, recounting the recent Inter - School Debate organized by LUV FM where AFSHTS was adjudged the runners' up. He further said this year's West African Certificate Examination (WASSCE) results released indicated the high number of student that passing the exam.
The GOC said the school can now boast of a modern laboratory with fully furnished Physics, Chemistry, and Biology laboratory equipment as well as a fully furnished Information Communication Technology (ICT) lab. All these were achieved through the contribution of Col Amadu- Mahama and other stakeholders in the educational sector.
The outgoing headmaster, Col Amadu-Mahama in his remarks was full of praise for all who were part of the success story in his career. He indicated that he is always motivated by seeing people climbing high in their endeavors and urged the students to take their education seriously.
Citations were presented to him by staff of Armed Forces School, Ghana Muslim Student Association and Conference of Heads of Assisted Secondary School (CHASS).