National
A/R: MMAA NYINAA AY3YIE GROUP donates to orphanage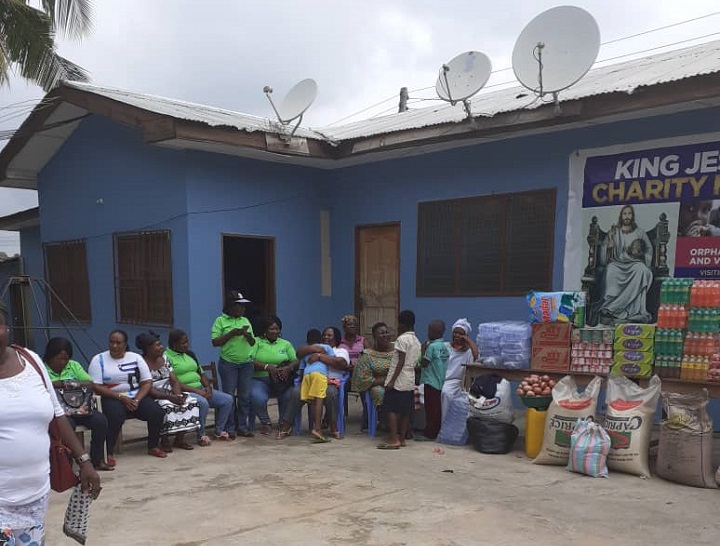 MMAA NYINAA AY3YIE GROUP at Atonsu S line in the Kumasi supported the King Jesus Charity Home at Boadi in the Metropolis in the Ashanti Region with the donation of large quantities of food and assorted items for the upkeep of the orphans.
The group was formed purposely to help the needy in our society. They comprised with individuals from different tribes, races and churches to contribute in cash and kind to help improve the lives of vulnerable.
The items which are valued at thousands of Ghana Cedis included bags of rice, toiletries, cantons of bar soaps, detergent, gallons of frytol cooking oil, biscuits, cartons of milk, bags of sachet water, bags of sugar, assorted and soft drinks among others. The group also made a cash donation of GHC200 for management of the Home.
Addressing the children during the presentation of the items, the Secretary and Spokesperson for the group Mrs Josephine ofosu said the donation of the items, though little is to add to the comfort of the children.
Mrs ofosu said the children, all of whom have big dreams of becoming great in future need much attention, care and protection hence the gesture which, according to him will not be a one-day wonder.
"We are on a mission to pool resources together to put smiles on the faces of the less privileged in the Ghanaian society," she ended.
"I think these are people that need more attention in any society, because if they are not integrated and transform, they will continue as societal burden," she told news reporters Paulina Boansu and Priscilla Adu-Gyamfi.
Mrs ofosu urged the teachers and caregivers to make it a duty to train the children to be responsible, stressing that they must instil in them the culture of cleanliness and to take sanitation seriously.
Receiving the items on behalf of management of the Home, Madam Charity Owusu Afriyie who is one of the Patrons expressed gratitude to MMAA NYINAA AY3YIE group and promised to ensure that the items are used to support the children's welfare.
Madam Owusu Afriyie who was enthused about the donations appealed to corporate organisations and benevolent individuals to assist the home which currently has about 60 children under its care.
Source: Ghana/otecfmghana.com