National
ARS Youth Ministry Donates To Akuse Prisons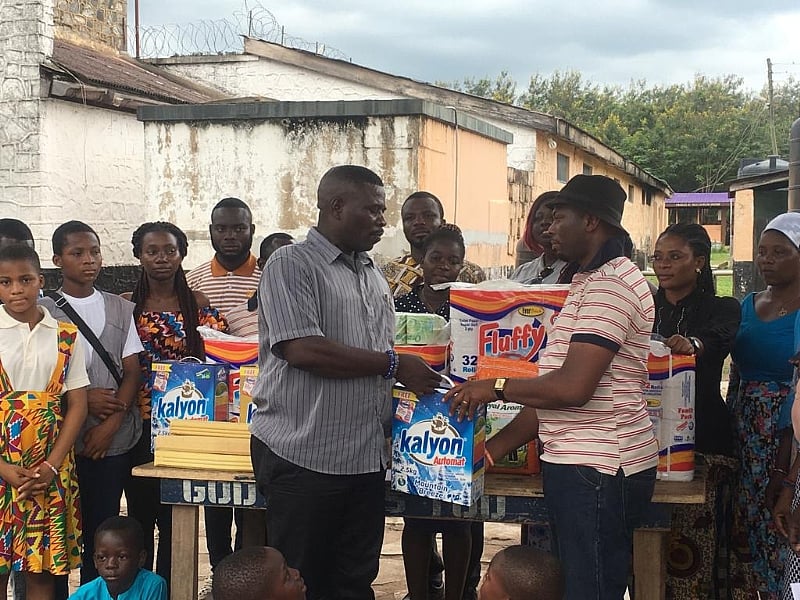 The Youth Ministry of the Madina Central branch of the Apostle Revelations Society (ARS) has donated assorted items to the inmates of the Akuse Prisons in the Greater Accra Region.
Some of the items included; mini bags of rice, tin tomatoes, soft drinks and toiletries among others.
Presenting the items the Youth Chairman of ARS, Prosper Agbenu said the Church is committed to the spiritual and physical wellbeing of the people in society.
He indicated that the Holy Bible enjoins every Christian and the church to be much concerned about the less privileged especially widows, orphans, the poor and prisoners.
Mr. Agbenu noted that even though the Youth Ministry of ARS is not much resourceful, it will continue to reach out to more vulnerable persons in society.
He appeared to Government to improve on the quality and quantity of meal being served to the prisoners.
Ms. Felicia Awudi, a Member of the Youth Planning Committee encouraged the prisoners to work on their salvation by accepting Christ Jesus throughout their stay in the prisons.
She reminded that being in prison is not the end of their lives, and must therefore put up a good behaviour and pray everyday.
Meanwhile, this is not the first time the Apostle Revelations Society is reaching out to the less privileged, but it is the first of its kind for the Youth Ministry.
The Church youth spent some time to pray, sing praises and worship and prayed fervently for the prisoners and the prison officials.
The church at the moment is celebrating its 80th Anniversary across Ghana. ARS church which has become a household name in Ghana and globally, has played a pivotal role in the development of this nation.
Other executives who visited the Akuse Prisons included; Mr.
Justice Kamasa (treasurer), Kafui Adawudu (Financial Secretary), Philip Nanavi (organiser), Wilson Ahelegbe (transport officer), Rose Danyo (Women Council leader), Victoria Homagah (Planning Committee member), Lilian Avosuglo and Ms. Felicia Wudi (all Planning Committee members).