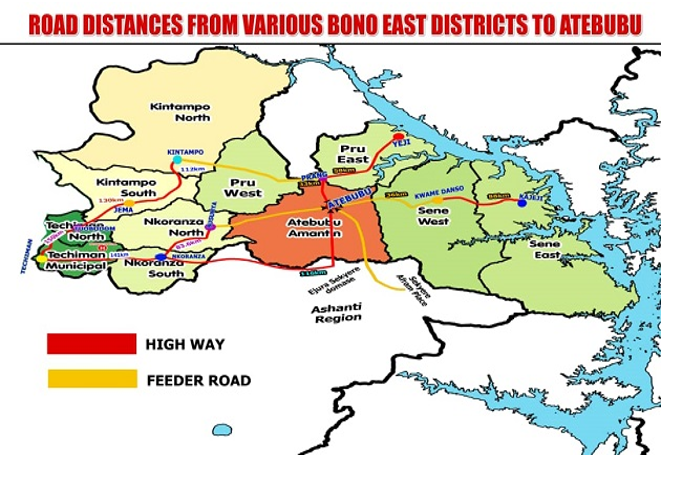 Chiefs Warn Ministers Over Influences On Bono East Regional Capital
The people and chiefs of Atebubu, have raised concern about the possible influence of Deputy Minister for Regional Reorganisation and Development Martin Agyei Mensah-Korsah, Deputy Bono Ahafo Regional Minister, Martin Gyarko Oti and Mr. Ameyaw Ekumfi in the selection of regional capital for the newly created Bono East Region.
The chiefs expressed fear that since the afore-mentioned personalities are key members of the ruling government and are all from Techiman there is the likelihood they will manipulate in making Techiman the regional capital.
Speaking exclusively with Today yesterday, Nana Boakye Yiadom, Dawurakwahene of Atebubu Traditional Council, called on President Nana Addo Dankwa Akufo-Addo, not to succumb to the pressure by those ministers and select Atebubu as the regional capital.
He explained that Atebubu stands tall in terms of land size accessibility, proximity and security.
"Justice Brobbey's Commission report page 244 stated clearly that in creating new regions things that must be considered include land size, proximity, and development among others. Atebubu has all of them so we don't see why Techiman which is so close to Sunyani, our former Regional capital should be Bono," he explained.
According to him, in 1958 when Bono Ahafo Region was created by the first President of Ghana Dr. Kwame Nkrumah, four districts were created including Atebubu.
He added: "Kajeji, Kwame Danso, Bonsra, Wiaso, Prang, Yeji, Abaase are all far away towns from Techiman but very close to Atebubu because it is at the centre of the new region. For instance, from Kajeji to Takyiman is about 264 kilometers but few kilometers from Atebubu. That was why Wenchi decided to remain in the Bono Ahafo Region because it is close to Sunyani the regional capital."
Nana Boakye Yiadom further argued that Techiman should continue to remain the commercial capital but the Administrative capital should be in Atebubu, adding, "the traditional council is ready to allocate any land size towards the development of the area".
Meanwhile, 10 out of 14 have petitioned the President, Nana Akufo-Addo, the Council of State, Speaker of Parliament, leaders of both Majority and Minority in Parliament, Brong Ahafo Regional Minister and the Minister in charge of Regional Reorganisation and Development to consider making Atebubu the capital of Bono East Region.
The Traditional leaders who signed the petition included Nana Yaw Pimampim Babreseh, Yeji Manhene who doubles as the President of Bono Ahafo Regional House of Chiefs and Nana Owusu Sekyi III Bassa Manhene among others.
"On the other hand, to solve this herculean task all the 14 traditional leaders here could be called and vote on which town should be the regional capital and we are ready to vote," the petition said.
Nana Boakye Yiadom expressed his gratitude to the President for the creation of the Bono East Region.
Meanwhile, President Akufo-Addo is expected to announce the capitals of the six new regions this week.