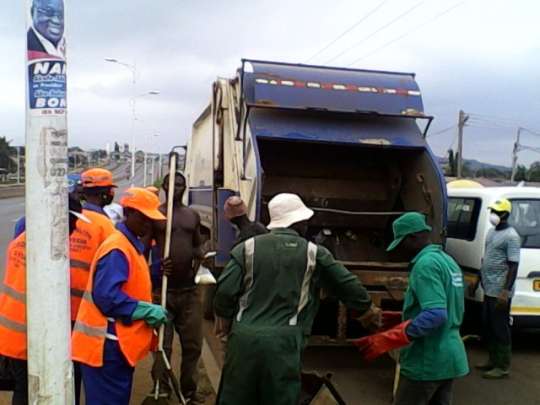 NCCE Decries Negative Attitudes Towards Sanitation
The National Commission for Civic Educations (NCCE) has intensified public education on environmental protection, preservation and cleanliness to safeguard the Eco space in the Mfantseman Municipality of the Central Region.
Addressing participants at separate fora at Kormantse and Taido to change poor sanitation practices, Mrs Judith Adomako-Ofosua, the Municipal Director of the Commission, decried the bad attitude of Ghanaians as the contributory factor to the country's poor sanitation situation.
She said as a religious nation, it is incumbent on all to ensure a clean environment bearing in mind that "cleanliness is next to godliness".
"We must change our attitudes and avoid indiscriminate littering of the streets and drains" which could lead to cholera, malaria, typhoid and flooding.
Mrs Adomako-Ofosua said a clean and tidy environment was a shared responsibility for every citizen and children must play a critical role to improve environmental sanitation.
"Children must change their lifestyle and attitude to sanitation. Their acts of environmental indiscipline have also contributed to making Ghana part of the top ten dirtiest countries in recent rankings."
She underscored the role of children as change agents and called for healthy discussions among them through public education whilst schools take the lead in waste segregating to generate revenue.
Mr Anis Mogtari, a Social Development Officer at the Mfantseman Municipal Social Welfare Office, expressed concern about the increasing number of children trafficked for labour exploitations.
He identified poverty and lack of parental care as the core issues fuelling child trafficking and called for more effective and efficient collaboration from stakeholders to tackle the problem.
Mr Mogtari counselled parents to take care of their children instead of driving them into child labour at tender ages.
Trafficked children are exposed to hazardous and exploitative labour including commercial sex work, domestic work, farm hands, illegal mining, fishing especially in the Volta Basin, petty trading and begging, he noted.
Government has established appropriate mechanisms to monitor the incidence of child trafficking, enforce laws on trafficking and to impose penalties on offenders to ensure children have access to free basic education.