National
Nkoranza South To Go Paperless In Revenue Mobilisation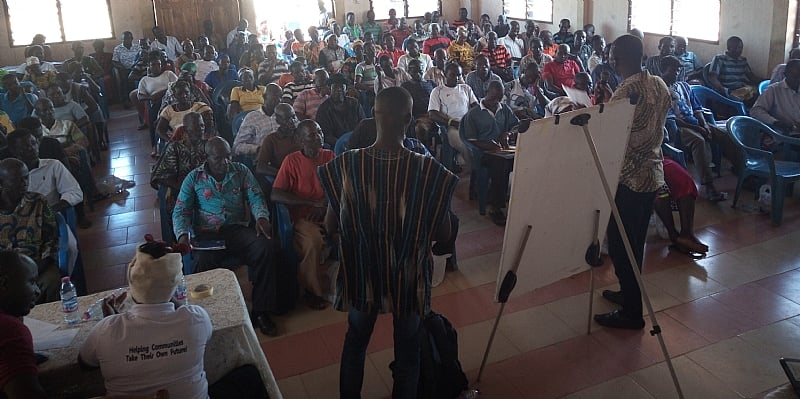 An NGO, Advocates for Community Alternatives (ACA) is assisting the Nkoranza South Municipal Assembly in the Bono East region to develop a software for revenue mobilisation which will make the process paperless and curtail leakages in the assembly's Internally Generated Funds (IGF).
The software, which is expected to be launched by the next February (2020), will also ensure accountability and deepen local governance while contributing to development at the grassroots level.
The Programs Director of ACA, Ruby Osei Kyei-Baffour, disclosed this to our reporter in an interview at Donkro-Nkwanta near Nkoranza in the Bono East region on the sidelines of a meeting on Participatory Budgeting for communities constituting the Donkro-Nkwanta Zonal Council.
Participatory budgeting is a process of democratic deliberation and decision-making, in which ordinary people decide how to allocate part of a municipal or public budget. This allows citizens to identify, discuss, and prioritize public spending projects, and gives them the power to make real decisions about how money is spent.
The programme at Donkro-Nkwanta formed part of the Local Government Accountability Project being championed by ACA which aims at strengthening the relationship between the grassroot and local government authorities, especially at four communities in the area where the NGO is operating. They are Kyeredeso, Nwoase, Donkro-Nkwanta and Salamkrom.
ACA has also constituted Citizens Committee Network in the four communities to spearhead the planning and execution of development projects in the area.
Madam Osei Kyei-Baffour said the time has come for local governance and development to be placed at the door-steps of community members.
"It's about time that we accepted the new wind of change that is happening. That people want to take development into their own hands. Let us embrace this new system that is coming up and then we can do our assessment and compare the difference between the new system of local government which is participatory and the old system which was not participatory", Madam Osei Kyei-Baffour said.
Madam Osei Kyei-Baffour said ACA in collaboration with the four communities have begun a community driven development project called the Facilitators Collective Action Process through which the communities have come out with their own priority areas for development and have initiated some projects.
Abdul Aziz, the Assistant Budget Officer of the Nkoranza Municipal Assembly, commended ACA for taking steps to keep the communities abreast of their roles and responsibilities in relations participatory saying, this would go a long way to to make the Zonal Council functional and eliminate revenue leakages.
He encouraged the community members to religiously honour their tax obligations to facilitate development in the area.
The Advocates for Community Alternatives program partners with communities in West Africa to explore development alternatives that are not dependent on mining and carbon extraction. ()