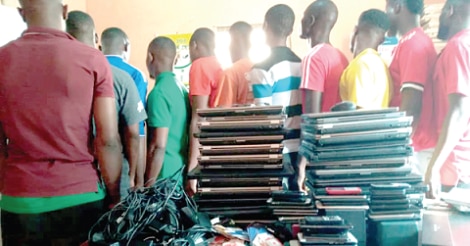 Pokuase: 23 Suspected Criminals Arrested
The police have swooped on a criminal syndicate at Pokuase in the Greater Accra Region and arrested twenty-three of its members.
The suspects include two Ghanaians and 21 Nigerians.
Chief Superintendent of Police Mr Francis Yiribaare in a brief to the media said the operation followed incessant reports of robberies in the area.
He said the Nigerians were rounded up separately in a three-bedroom apartment near Pokuase ACP.
In the process, 29 laptops, 30 mobile phones, 95 sim cards of various telecommunication networks and 17 pen drives were retrieved from the suspects.
According to the police, the suspects used the items to engage in cyber fraud activities through which they duped unsuspecting persons of various sums of money.
Mr Yiribaare said the suspects were believed to be part of some armed robbery syndicates that had been terrorising and robbing residents of the area of various items, including computers.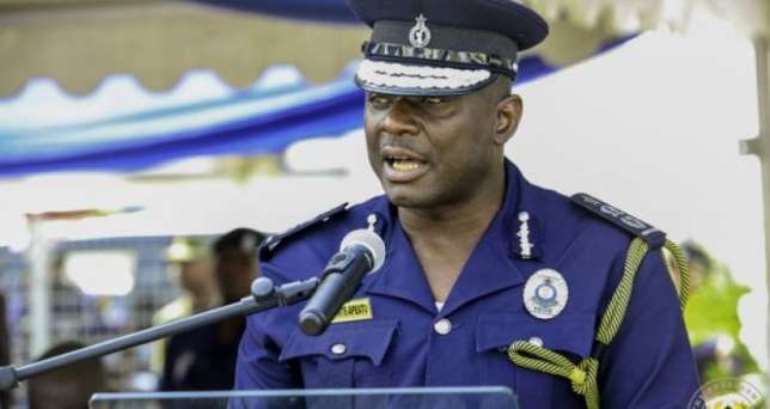 IGP David Apeatu
The two Ghanaian suspects were arrested from their hideout, which the police described as a ghetto, at Mayera, a suburb of Pokuase, while they were smoking substances suspected to be Indian hemp.
According to the police, residents of the area had been suspicious of the activities of the Nigerians, whom they claimed usually left their apartment at night and returned at dawn to sleep.
The swoop was carried out last Tuesday formed part of an ongoing operational exercise to hound down criminals in the Pokuase area.