National
Teachers ill-prepared for rushed New Curriculum – Educationist warns.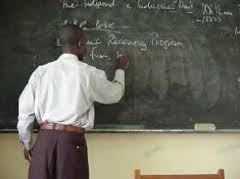 A quality education specialist with the SOS Villages Ghana has indicated that the new curriculum for basic and high schools is being rushed.
Beginning the 2019 – 2020 academic years, Ghana will be moving towards a standardized practical based curriculum with national assessment examinations to be written in classes two, four and six.
Even though the Ghana Education Service has organised a week's training for teachers to execute the new curriculum, Joseph Cudjoe Yani is worried teachers have not been adequately trained to deliver the course.
Mr Yani expressed the observation speaking at a Youth Day Celebration Event organized by the No Business As Usual Project in the Asokore Mampong Municipality under the theme "Transforming Education; The Role Of Soft Skills In Professional Development."
He told reporter Ivan Heathcote – Fumador, "I don't think we are prepared enough to do it because we are rushing it. Can you imagine they are using just one week to train teachers from Kindergarten TO Primary six in order to implement the new system?"
He warned that there could be consequences of a well intended system failing to deliver on the very laudable objectives that the curriculum is geared to produce.
"The consequences are that we might not be able to achieve what we have set out for because if the target is that there should be quality education, we might not end up achieving that." Mr Cudjoe Yani cautioned.
Meanwhile the training being offered for teachers in the Ashanti region towards the roll out of the New Curriculum is causing some dissentions among the leadership of the two major private basic school associations in the Ashanti region.
The Ghana National Council for Private Schools (GNACOPS) has held its own training and launched a scathing attack on the training offered by the Ashanti regional Directorate Of Education to its rival body, the . Ghana national association of private schools.
Ivan Heathcote - Fumador