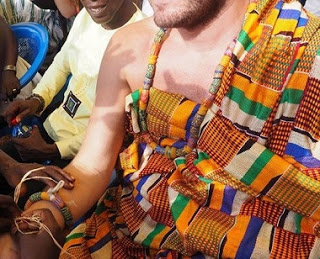 Ghana – Which Way Are We Going?
The typical character of many Africans, including Ghanaians, is to accuse an old woman or man, sitting peacefully under a tree, thinking of what the grandchildren are to eat of witchcraft.
Living in Ghana at the moment is very difficult to the extent that it is appearing in the Ghanaian newspapers that the leaders association with evil spirits and occultism are responsible.
It's shocking that in this 21 century, many Ghanaians can't accept or handle their incompetency, laziness, and inefficiency in running the affairs of the state instead; they put the blame on evil spirits.
I have said over and over in many articles that it's just normal for every country to have a leader, the reason African countries have leaders but they lack the responsibilities of being a leader.
Colonization period in Africa was the biggest opportunity to loot and underdevelop Africa but they couldn't ruin or take away the entire African resources that mean we are fortunate to have what European colonial masters couldn't take away, so what's our problem?
The US government wants to take possession of African resources but this time since colonization isn't possible the government is using the Ebola virus. This means that Europe and America are still interested in African resources.
And frankly speaking, if Europe and America would get the opportunity to get one-tenth of Africa's resources at the moment, their economies will flourish buoyantly giving rise to employment in new fields.
Therefore, Ghana mustn't blame the failure of the country's economy on evil spirits because nobody has blamed Ebola yet, despite that deadly virus has discouraged investment in Africa and weakened the continent's infrastructure.
Europeans come to Ghana and after constructing a village drinking-well worth 150 Dollars, he is immediately enstooled "Welfare chief" –Nkosoahene, while stolen monies deposited in Europe, America and the Swiss banks by African leaders, are used to develop their countries without any recognition.
The enstoolment of white people in Ghana as Nkosuahene - welfare chiefs, portrays Ghana a cheap country, lazy people, and lowers the esteem of Ghanaians, therefore, it must come to an end.
We need to change our attitude, our way of perception, thinking to believe in ourselves and aspire to greater things in our continent.
That will give back our lost confidence and identity in a world that we are taken for granted.
Joel Savage
Joel Savage is a Ghanaian-Belgian journalist and author. The accredited press-card holder of the Flemish Journalists Association once contributed regularly to the features column of the Daily Graphic, The Mirror, Ghanaian Times and the Weekly Spectator. The writer currently lives in Belgium.,
Disclaimer: "The views/contents expressed in this article are the sole responsibility of Joel Savage and do not neccessarily reflect those of Modern Ghana. Modern Ghana will not be responsible or liable for any inaccurate or incorrect statements contained in this article."