Opinion
Matthew Opoku Prempeh Must Treat His Halitosis And Stop The Trash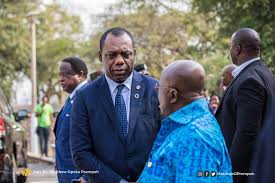 Matthew Opoku Prempeh, you have garnered the confidence of buffoonery and subjected your thought, scruples and sense of reasoning to neath of human excretion.
You are a complete disgrace to the medical profession and do not deserve to work on patients let alone as a legislator. You are a complete insult to the good people of Manhyia who voted you into Parliament. I have listened to a tape and analysed the interview you granted Ekosiisen-Asempa FM over the week in dismay over your frivolous and flippant claim that HE John Mahama bussed women and men of conscience to embarrass your befuddled Ministry and make your sick government look bad in the eyes of right-thinking Ghanaians. You could have done your usual propaganda and lies without foisting your unfounded claim on our statesman.
You must spare John Mahama your irritating, vexatious and repelling public delivery. You don't deserve to speak about JM with your chronic halitosis even though you're said to be a dentist. take your attitude of self-conceited arrogance to the zoo and save our human habitation your lack of common sense and consciousness.
Your unwarranted, deliberate and calculated agenda to defame and maculate unblemished name of our flag-bearer will not be allowed this time round.
Matthew Opoku Prempeh you must know that insult is not a sole reserve of the NPP and as our fine National Youth Organiser intimated on radio, any gibberish you and your NPP put out there, we in the NDC will respond in equal measure. If you don't have elders at home, we will take you to the interminable dumpsite your home where you belong.
Constantly, operatives of the ruling government are quick to blame HE John Dramani Mahama over their failures without recourse to consciousness of determination and fair judgment among the Ghanaian people. In as much you Matthew Opoku Prempeh respect Akufo-Addo, we in the NDC also venerate HE John Mahama.
If for nothing at all John Mahama is a Former President and flag-bearer of the National Democratic Congress. He was a President before your Nana Addo. The respect due him is not unto his person but unto the office he once occupied. Give him respect either.
Concentrate and deliver on the appetizing promises you gave the Ghanaian and stop attacking adoring John Mahama.
Every household has utmost respect for their father. You respect Nana Akuffo Addo but you disrespect John Mahama, hey!!! we will not allow that.
A man's intelligence is measured by his utterance, on this score I respectfully submit to you that you are a dumb.