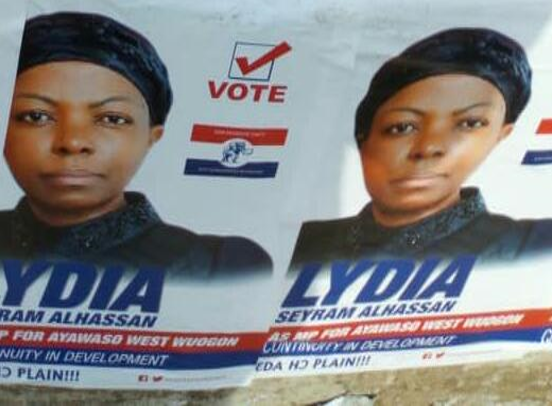 Opinion | The True Story Of Seyram Alhassan
Seyram comes from Northern Volta now OTI Region.
She starred as a business acquaintance with the late Hon. Kyeremateng Agyarko and was very familiar with the Agyarko's wife and children.
For a long time Agyarko was living with his wife Nana and his two children at Dansoman Akokofoto Down in Nana's late father's house.
Nana started a very thriving African Jeromy Fashion House called the House of Damaris.
She had a very big shop near the Methodist Catedral near Paladium Accra
Nana exported her African Dresses to South Africa where her closet Ghanaian friends worked and lived.
Hon. Agyarko had a Pharmacy shop at Dansoman but was badly managed until he closed it down and gave the shop to Nana to open the Dansoman branch of the House of Damaris.
With the boom in her business, Nana bought a house at East Legon near the A&C Mall
Nana became very close to Fmr. President Kuffour and a financier of the President Kuffour and NPP campaigns.
After the victory of Prez. Kuffour in the year 2000, Nana got President Kuffour appoint Hon. Agyarko as the CEO of the Foods and Drugs Board, soon after his appointment a strong amorous relationship commenced between Hon. Agyarko and Seyram Alhassan. Seyram registered and traded in importation of pharmaceuticals.
After sometimes, Seyram told Hon. Agyarko to assist her have a baby. Since she could not be pregnant naturally, Seyram suggested and it was agreed by Hon. Agyarko that they should do IVF ( Test Tube Fertilisation).
Kwabena donated his sperms and it was used Fertilise with Seyram's. The IVF procedures succeeded, but wait a minute, unknown to Hon. Agyarko, Seyram got some of the Fertilised eggs planted into her cousin Davlin.
So the two women carried the 5 babies. Seyram delivered two of the babies and the Cousin Davlin also delivered 3 of the babies. We have the name of the Doctor and Medical facility where the IVF was conducted.
Word got to Nana about her husband's infidelity and reckless fathering of the 5 Children
When Nana confronted Hon. Agyarko, he only left the house to go and live with Seyram and for more than 7 years outside his marital home.
He only went to visit his original two children with Nana at their house in East Legon, whilst leaving with Seyram, Hon. Agyarko the female hunter got entangled with another woman called Madam Eva Mends, a Director of Ministry of Finance and soon had a child.
When Hon. Agyarko turned 60 last two years, Eva organised a birthday party for him. Unknown that it was Eva who had organised the Birthday Party, Seyram prepared elaborately to surprise Hon. Agyarko at his 60th Birthday.
Seyram had a rude shock when after dressing up, Hon. Agyarko told her blankly that, she could attend the Party only on his dead body. A long fight ensued, Seyram sensing danger removed her dresses and took scissors to cut down all her hairs instantly and went naked, dragging her buttocks three times across the room and cursing Hon. Agyarko that he will not live to see his next Birthday.
True to her fears Hon. Agyarko gave Eva a marriage promissory ring at his birthday party and promised to marry her officially last year, but true to Seyram's curses that was never to be......
Soon after the death of Hon. Agyarko, Nana Akuffo Addo , was ill advised and misled into visiting Seyram as the widow of the late Hon. Agyarko in her house.
This certainly could not be accepted by Nana and so she complained to the Chief of Staff Hon. Frema who set out to right the wrong of the President, by getting the President to go quietly to Nana's house to apologise.
That is why Seyram issued a reconciliatory statement denying that neither she nor 'her senior Sister Nana was going to contest any Parliamentary Primaries for the Ayawaso West Wuogon seat... and also pleaded with the Press to leave them in peace to mourn their 'lovely late husband.'
Hmmmm, facts have emerged that after the birthday debacle with Seyram, Hon. Agyarko, moved abode with Seyram to go and live with Eva until when he fell sick and Eva accompanied him to the United States for treatment but he died.
Strange things have since happened, Fmr. Energy Minister and a Senior brother of Hon. Agyarko started exercising ownership control over his late brother's properties. From all accounts he is siding with Seyram for purely business reasons. Boakye Agyarko gave an order to the elder son of Hon. Agyarko called Sony boy to park the vehicle which his late father gave him to drive as he travelled to the USA for treatment.
Sony Boy refused his Uncle's order to park the vehicle in Seyram's house and also vacate his father's house near the Airport Hills.
Again, Nana could not take the instructions from his late husband's brother as so she filed a suit at the Accra High Court and the hearing is scheduled for the 16th of January, 2019.
So the questions to ask are as follows:
1. Is it true that Hon. AGYARKO had a wedded wife until his death?
2. At what time and place did Lidya Seyram Alhassan
and Hon Agyarko get lawfully or traditionally married?
3. Did Lydia Seyram Alhassan have an IVF if so did she carry and deliver all the 5 children or her cousin carry and deliver 3 of the 5 children?
4. Who celebrated the 60th birthday for Hon. Agyarko and what happened on the evening of the Birthday party?
One very disturbing development is the super extra close relationship that has developed between Hon. Hadzede the disgraced former Deputy Minister of Sports cleared by Nana Akuffo Addo to become the Deputy Minister of Information.
Dishourable Hadzede is 24/7 in the company of Lydia Seyram Alhassan much to the anger of Late Hon. Agyarko's family and a violation of Krobo Traditions and culture. How can a proper widow enter public space and contest elections when the husband has not been buried?
The question being asked amongst Hon. Agarko's siblings and close family members is.... did she curse her so-called husband just that she lies her way and impersonating to take over his position in Parliament?
Hmmmmm asem yi de ka