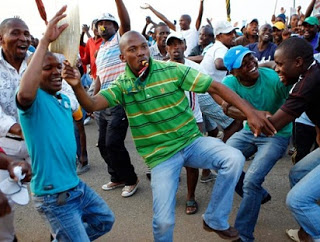 What Are The Benefits For A Common African Worker?
Every African worker needs better living conditions, healthcare facilities, education, welfare benefits, and good roads. It's therefore, irrelevant for any African leader to say that Africa is poor, so they can't provide its citizens' with such amenities or benefits.
Africa is not a poor continent. It is greed, selfishness, and corruption which have made politicians rich, while the common people wallow in abject poverty. In Ghana, politicians and few people serving in the government institutions enjoy benefits, while the common Ghanaian has no access to any benefit, even though the politicians need their votes to occupy the office.
There are differences from country to country based on the government's benefits to employees. The governments of Europe and America work very hard to give their citizens better medical care, education, welfare benefits and flexible transportation(whether poor or rich), while the story is the opposite in Africa.
In Europe and America, you don't need to be rich before buying a car or a house. You don't need to have money before going to the hospital. A laborer, a cleaner, or anyone in a low earning sector can still afford to buy a house, once your loan is granted by the bank. This makes life worth living even if you don't earn high.
This is never possible in Africa, yet Africa has enough to put a smile on the face of everyone.
No matter how angry I am with Belgium, over crimes they committed in Africa and the building of the statue of King Leopold II, after killing over ten million Africans, I will always praise them for the comfort and welfare benefits they give to both nationals and foreigners.
The O.C.M.W, a public center for social welfare', ensures a number of social services of the well-being of every citizen. Every municipality or city has its own social office that offers a wide range of services. The VDAB, one of the largest job assistance centers throughout Belgium, will assist you to find a job and give you training for a new job if you are not interested in your old work.
Due to poverty, abortions take place daily in Africa and in African countries it's like being pregnant an abomination. Fear and the cost involved can kill the mother before the child is delivered.
In Belgium, pregnant women are not given only special attention and care but also financial assistance. Whether a national or foreigner, the government deposits over 900 Euros (free) into your account to help you take good care of the baby after delivery.
When the baby arrives, the Belgium government will continue assisting the mother of the child with "Child's Monthly Allowance," until the child completes his education and finds work. The only African country with such care and welfare benefits for its citizens was Libya before the country was destroyed.
The Belgian government cares so much about its citizens to the extent that workers that use the bicycle to work are given allowance every three months in companies. Some employees are entitled to a free or reduced full year ticket to join the bus, train, and the tram. Please, Mr. African president, don't tell me that Africa is too poor to treat their citizens in this special manner.
What makes Belgium education unique and superior throughout the whole world? For example, this may sound strange but it's the truth. You can't get any job in a big company as a cleaner if you haven't participated in a cleaning course. Millions are cleaners in Africa without certificates because the government or educational institutes think one doesn't need a certificate to be a cleaner.
The problem in Africa is the leaders are selfish, greedy and corrupt and never take the plight of their citizens into consideration, the reason many Africans are living in terrible conditions. Africans don't need to suffer because the continent has enough to feed and provide better services for its national but because of greed and corruption; the wealth has gone into the pockets of a few people.
Africans voters believe in voting because they are expecting a good government which will provide them with good and proper amenities, yet they often forget that they have their rights to boycott elections since governments don't care about them. Europe hasn't what Africa have, so if they can provide better care for their citizens why should Africans suffer?
When I completed secondary school, all efforts to join the Ghana army didn't work out. The good soldier, Colonel Eninful gave me the advice to further my education before joining the army. Together with my mother, he still insists I should further my education. Later, I lost interest and left Ghana to Nigeria. My faith tells me that Colonel Eninful saved my life else I wouldn't be alive today. I will keep my aims of joining the Ghana army to myself.
Joel Savage
Joel Savage is a Ghanaian-Belgian journalist and author. The accredited press-card holder of the Flemish Journalists Association once contributed regularly to the features column of the Daily Graphic, The Mirror, Ghanaian Times and the Weekly Spectator. The writer currently lives in Belgium.,
Disclaimer: "The views/contents expressed in this article are the sole responsibility of Joel Savage and do not neccessarily reflect those of Modern Ghana. Modern Ghana will not be responsible or liable for any inaccurate or incorrect statements contained in this article."