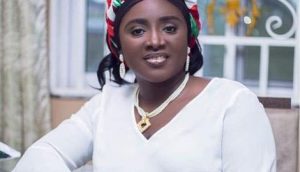 Medical drones will take nude photos of your wives– Hannah Bisiw

The National Women's Organizer for the opposition National Democratic Congress (NDC) Dr. Hannah Bisiw has urged Ghanaian men to reject any idea to bring in drones for the delivery of blood and other medical supplies.
According to her, the drones will take naked pictures of their wives as they fly over their roofless bathhouses.
Late last year, the government contracted the services of Zipline to supply and operate the medical drones at a cost of $12 million in a bid to address emergency health situations.
The drones would deliver blood and other critical medical supplies to inaccessible areas in the country.
Parliament eventually passed the services agreement between Fly Zipline and government by a vote of 102-58 amidst heavy criticisms that the move was a misplaced priority.
But months after the deal was signed, Dr. Bisiw, speaking at a party event in Asamankese over the weekend, sparked controversy when she argued that the remote-controlled drones will invade the privacy of women who take their bath in open spaces.
"Those drones have video-taking [capabilities]. So I am telling Nana-Addo and Bawumia that the drones they are bringing, which can take pictures, and has someone sitting behind a computer and directing it in villages in the name of supplying blood, we know, do not offer blood.

"That thing can take pictures and they can take videos. So when it passes by your village and your bathroom, it will take pictures. So the men listening to me, those drones can take pictures of your naked wives when they are bathing because in the villages our bathrooms are not covered. So they can take pictures of your naked breasts and other things. We know those drones can take pictures but we don't want the drones, we want those vans that John Mahama was using to supply blood, those vans were effective and helpful". she said.
---citinewsroom