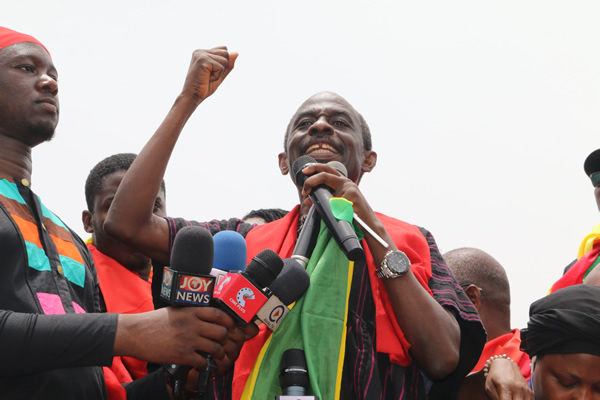 Political Scientist: GHC400K Filling Fees Critics Are Baseless And Terrible
A Political Science Lecturer at the Kwame Nkrumah University of Science and Technology, Dr. Kwesi Amakye Boateng has described as baseless, wrong and terrible the criticisms of the GHS420, 000 being charged by the National Democratic Congress (NDC) Leadership as filing fee for flagbearer aspirants.
He said, the opposition NDC needs a huge amount of money to run their political activities in order to win the 2020 elections and one of the means they have adopted to raise fund is through their flagbearing.
"Former American President, Barack Obama at the time he was campaigning to become the President of the United State of America he raised huge amount than all his competitors but he was not a rich so if people sit elsewhere and say the gh420k filing fee is against the party's democratic stands is wrong and terrible analysis" Dr. Amakye stated.
Several political analysts and party faithfuls have raised red flag at the NEC's decision as they believe the amount involved may scare most interested people from contesting in the race.
But Dr. Amakye Boateng in interview monitored by Anokye Elvis of thepressradio.com on yesterday said their analysis is wrong.
All male flag bearer aspirants of the NDC are expected to pay GHS 400,000 as filing fee while female flag bearer aspirants are to pay GHS 200,000 and persons with disability aspiring to the same position are to pay GHS 150,000.
The nomination form for the flag bearer slot is going for GHS 20,000. Also, Parliamentary aspirants are expected to pay GHS 20,000 as filing fees of which female aspirants will pay have of that.
The party took the decision at a NEC meeting on Thursday November 29 at the party's headquarters in Accra.
So far, twelve people including former President John Dramani Mahama have indicated their interest to run for the flag bearer slot of the party in the presidential primaries scheduled for 19 January 2019.
Meanwhile, Dr. Amakye said it is not necessarily means the flagbearer aspirants are going to pay the money from their own pocket individually so if the person wishes to come and lead the party and win the 2020 elections to rule the entire country, he or she should be able to resource for the said amount.
He however, admitted that there is a hardship in the country but it should not narrow political campaign.
"It is not an issue that there is a hardship in the country so the political parties should sit down and do their internal campaigns and elections anyhow" He admonished.