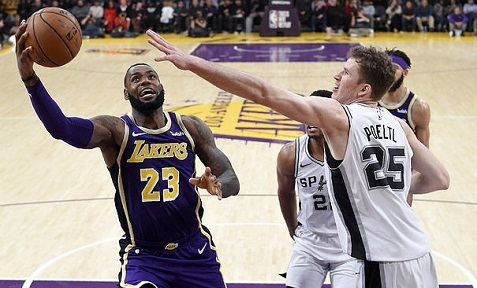 LeBron Shines In Lakers Victory Over Spurs
LeBron James scored 20 of his 42 points in the fourth quarter and Josh Hart hit two clutch 3-pointers in the final minutes of the Los Angeles Lakers' fourth straight victory, 121-113 over the San Antonio Spurs on Wednesday night.
Kyle Kuzma had 22 points and nine rebounds for the Lakers, who lost Brandon Ingram to a sprained left ankle in the first quarter.
Los Angeles still beat the Spurs for the first time in three tries this season, but only after James dramatically took control of another fourth quarter during his third 40-point game since joining the Lakers.
DeMar DeRozan scored 32 points and Rudy Gay had a season-high 31 before fouling out for the Spurs in the first of back-to-back games in three days to wrap up the season series between these longtime West rivals. They'll meet again in San Antonio on Friday night.
San Antonio held an eight-point lead in the fourth before James started a rally by scoring nine consecutive points. James hit an extra-long 3-pointer moments later, but the Spurs surged back ahead again.
Hart hit a tying three with 3:04 left, followed by a go-ahead three from James on the next possession. Hart and James hit consecutive clutch 3-pointers moments later, and James added a layup with 41 seconds left.
James scored all 20 of his fourth-quarter points in the final nine minutes, going seven of eight from the field with three 3-pointers. He also had six assists and five rebounds.
Gay poured in 16 points during the third quarter of his highest-scoring performance for the Spurs and a personal best for the injury-plagued scorer since January 2016, but he had just one basket in the final 10 minutes before fouling out with 27 seconds left.
San Antonio made a 24-10 run out of halftime to take its biggest lead at 69-60, with Gay scoring 16 points in the third quarter and DeRozan adding 12.