Sport
Porcupine warriors gear up for battle in Africa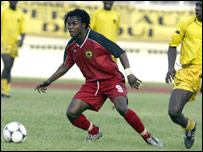 Asante Kotoko treads on a different path: Caf Champions League- this time around in Africa, but one that looks familiar to the club and its supporters. Absent from Africa's most prestigious tournament in the last four years, the porcupine warriors once again step onto the battlefield hoping to go further than the last did.
The organization of the Tier 1 NC Special Competition provided a path to the Caf Champions League for the GPL in the country, with the winner participating in Africa's most prestigious tournament. Competition to tread on this path was fierce, but the porcupine warriors proved their mettle and desire to once again walk on this path by defeating Karela United 4-1 on penalties.
The Caf Champions League: A bloodied battlefield - where only the strong survived and the weak bullied requires that a club is well endowed and ready to battle.
There is no God-given right to victory on the battlefield. That's right! Wars or battles won by nations or individuals were not predetermined but won through skills and devotion.
Kotoko, determined not to be a casualty at the preliminary stage for the third time, the club turned briskly to the transfer market for new 'arsenals' as well as appointing zacchaaa from Ashanti Gold to whip the players into shape for the battle ahead.
The porcupine warriors face off Kano Pillars of Nigeria in a two-legged tie for a place at the next stage with the first leg taking place on the astro turf of Sani Abacha Stadium. Not to be taken aback by the surroundings of Sani Abacha Stadium, the club took part in a three-day intensive training at the capital city on the astro turf at Accra Academy in order to familiarize themselves with the pitch.
In Kano Pillars, the porcupine warriors come up against a formidable foe and the Kumasi based club might need all their skills and devotion as well as their valour and ferocity as a group in order to win